https://www.flayrah.com/6737/review-dog-country-malcolm-f-cross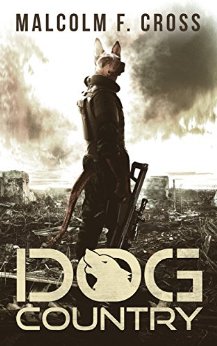 This review is part of my commitment to reviewing anthropomorphic literature during Furry Book Month.
A crowdfunded war fought by genetically identical dog-people created as soldiers and emancipated into a world that doesn't understand, or always approve of, their special talents.
What could possibly go wrong?
Edane, Ereli and their hundreds of brothers were grown and trained to form fighting units, but the company that created them was shut down when they were still, biologically, children.
Now adults, some scrape a living as mercenaries, doing odd jobs, or fighting for a betting audience. The lucky ones have a career in MilSim, a realtime combat simulation game, but some figures in the sport are starting to argue that they're too good and shouldn't compete.
Self-published, 2016, ebook (288 pages) $4.99 (US) / £3.99 (UK).