https://www.flayrah.com/6655/review-bunnicula-rabbit-tale-mystery-deborah-and-james-howe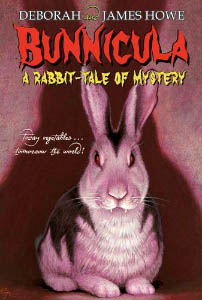 In the days before mobile phones and the Internet, people would have to have conversations with their pets to keep themselves from going insane. That's how it is with the Monroes, a nuclear family with two young children, two careers, and two pets: a cat (Chester) and a dog (Harold).
And every day, when the family members head out of the house, they leave their pets unsupervised to indulge in their vices. Chester reads horror stories; Harold daydreams about food. Life is perfect.
Until the day the Monroes go to a Dracula film, and come home with a little fluffy bundle of a rabbit in a shoebox full of dirt.